Providing Innovative Route to Market Solutions
Brands Africa Malawi was established in 2016, with a limited range of principals and has been growing from strength to strength, over the last two years, providing national distribution to all formal retail and wholesale chains as well as the informal sector
We have a country-wide sales team covering the majority of the country and believe we offer outstanding service to both our principals and customers.  Our 3PL fleet of 4 ensures excellent distribution coverage with reliable deliveries.  Brands Africa's warehouse is located in Blantyre and offers over 1,230m2 of space.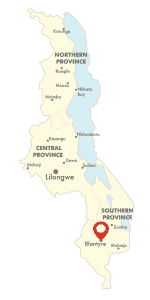 PERSONAL CARE & COSMETICS
BEVERAGES, ALCOHOL & TOBACCO
FINE FOODS & CONFECTIONARY
Lloyd Fifteen
General Manager
With over 13 years experience in FMCG across the region, Lloyd is result-driven with extensive accounting, auditing, financial management, commercial and operations experience.
Lloyd joined Brands Africa in 2006 and has held various managerial positions.  His biggest achievements were the set-up of Bulawayo branch in Zimbabwe in 2010 and Brands Africa Malawi in 2016.
Lloyd has an MSc in Professional Accountancy from University of London (UCL), is a qualified CA with ACCA and is studying CFA
Elvis Madekutsikwa
Sales Manager
With 5 years in the FMCG Industry, Elvis started his career with Brands Africa in 2013 as a Promoter.  Since then he has held 4 other positions within the organization giving him varied and valuable experience.
Prior to working in FMCG, Elvis working in the transport and music industries. In 2018 Elvis was promoted to Sales Manager for Malawi which is a great achievement.
Elvis is a holder of a Bachelor of commerce in Economics from the University Of South Africa, Gr Dip. In Marketing, from the Institute Of Marketing Management (I.M.M, S.A).
Malawi Office
Grevillia Avenue CC383A
Limbe
Malawi
Tel: +265 1 848920 / 1
Email: info@brandsafrica.mw
This is a boxed content block. Click the edit button to edit this text.