Providing Innovative Route to Market Solutions
Brands Africa Malawi was established in 2016, with a limited range of principals and has been growing from strength to strength over the last two years, providing national distribution to all formal retail and wholesale chains as well as the informal sector.
We have a country-wide sales team covering the majority of the country and believe we offer outstanding service to both our principals and customers. Our 3PL fleet of 4 ensures excellent distribution coverage with reliable deliveries. Brands Africa's warehouse is located in Blantyre and offers 1,230m2 of ambient and temperature-controlled storage space.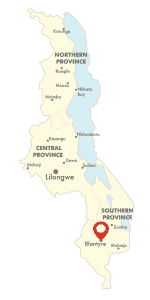 PERSONAL CARE & COSMETICS
BEVERAGES, ALCOHOL & TOBACCO
FINE FOODS & CONFECTIONARY
LLOYD FIFTEEN ACCA, FCMI (GENERAL MANAGER)
15+ years of experience in FMCG industry across the region including the set-up of Bulawayo branch in Zimbabwe in 2010 and Brands Africa Malawi in 2016
Experienced in Commercial, Operations and Finance, holding various managerial positions
Holds a Master's degree from University Of London (UCL)
Member of ACCA UK – Chartered Certified Accountant and a Fellow of Chartered Management Institute (FCMI – UK)
ELVIS MADEKUTSIKWA ( SALES MANAGER)
A seasoned Sales and marketing executive, with sales experience spanning product and service industries
Holder of a B.com Economics degree, and a Graduate Dip in Marketing (IMM)
Joined Brands Africa in 2013 doing promotional activities, holding several positions over the years in different departments
HOWARD GANGARABWE ( FINANCE AND OPERATIONS MANAGER)
An Honours Degree in Banking & Finance graduate from Midlands State University and an aspiring Chartered Accountant with ACCA, Howard is a seasoned Finance professional with 10 years of experience.
After completing his Graduate Traineeship with Zimchem Refiners, he joined the Brands Africa as a Credit Controller in 2013 and has held various managerial positions within the Group before being appointed to his current position in August 2019.
He has vast experience in FMCG finance having held various Managerial and administrative posts within the Group.
Malawi Office
Grevillia Avenue CC383A
Limbe
Malawi
Tel: +265 1 848920 / 1
Email: info@brandsafrica.mw
This is a boxed content block. Click the edit button to edit this text.